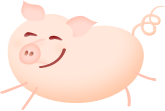 When pigs fly, they fly Delirious Airlines.
Are you tired of airlines run by swines? Would you like to journey in a comfortable suite instead of residing in a pig stall? Now you can — without breaking your piggy bank! Delirious Airlines offers affordable flights all over the world, in luxurious Boeink Cloudliner aircraft.
Coming soon to an airport near you! For more information, visit deliriousair.com/wow.
When humans build the web, they use Espresso.
This little project is meant to get you started with Espresso and its amazing Live Preview, which you're looking at now. You could even be using a browser: see Preview > Open Page With. Once there, try activating Xray by pressing command-option-X. Wherever you're previewing project pages: you can edit and style them without needing to save.